Who will be $1M richer?
Upper Demerara face West Demerara in GT Beer Super Sunday final tonightBy Joe ChapmanALL roads lead to the Mackenzie Sports Club ground this evening, as the pursuit for $1M takes place when Upper Demerara, playing at home, will look to stop the unbeaten run of West Demerara, as the final of the Upper Demerara Football Association (UDFA)-organised GT Beer Inter-Association Super Sunday Night Cup comes to a climax.Having played without a loss both sides can easily be considered the top two in the eight associations of Guyana, but the winners' $1M, along with the bragging rights and holding the championship trophy, is what matters now, even as the losers get $600 000.At the launch last Friday for the semifinals Banks DIH Communications Manager, Troy Peters, made the point that his company does not see this only for football, but for the development of the community because of what it brings to the community with all the associations of the Guyana Football Federation being involved in the area.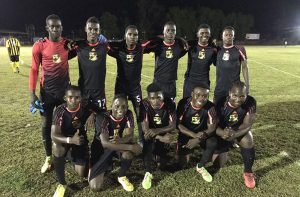 The Upper Demerara squadPeters assured that Banks DIH will continue to offer its support wherever possible.President of the UDFA said this programme of having an inter-association tournament is seen as football development where the cream of football players come together and the federation can ultimately come up with a pool of players to represent the national team in the future.He thanked Banks DIH for their support for this venture and the annual tournament which means so much to the community of Linden.However, West Demerara, seen definitely as the third force in local football, along with Upper Demerara and Georgetown, have made a statement and will be hoping to crown this achievement with a championship win.They have been playing positive football; and have among them Jamal Harvey who has three goals and David Blake two. This gives them some confidence going up against this Upper Demerara side.Devon Primo is also in good form with Morgan Denny also among the goals. They do have a great chance of taking away the championship.Upper Demerara, however, after dismantling Georgetown in a more convincing fashion by a 3-1 margin; will be hoping to get their momentum going early against the West side. West Demerara on the other hand had inflicted a 1-0 win over Georgetown in their round-robin play.Having the leading goalscorers in the tournament will mean a lot. Upper Demerara's Denzil Fordyce and Kellon Primo each with five goals, and with two other hungry players up front in Marmalaque Davidson and Shane Luckie, this could be the time for Upper Demerara to prove their worth.